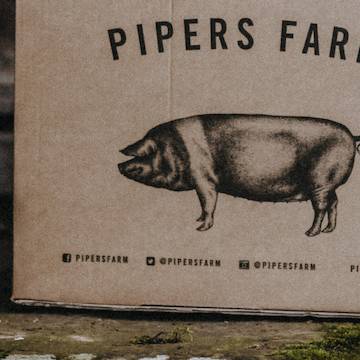 Delivery You Can Trust
At Pipers Farm our job isn't complete until your carefully chosen order is delivered safely to your door. We have been delivering our thoughtfully produced, sustainable, grass fed meat and artisan treats to homes around the country for over 30 years! Rest assured, you are in safe hands with us. 
We offer Next Day Delivery on orders placed by 1pm between Monday and Friday (excluding Highlands & Islands postcodes). At busy periods (Christmas and Easter), there may be occasions where our cut off or lead time for deliveries changes.
There is a minimum order value of £30. 
Delivery Charges
Standard Delivery
Delivered Tuesday to Friday, 8am to 7pm
For orders over £75 delivery charges are £3.95
For orders under £75 delivery charges are £5.95
Express Delivery
Delivered Tuesday to Friday, 8am to 12pm, delivery charges are £7.95*
*excludes Highlands & Islands
Saturday Delivery
Delivered Saturdays 8am to 7pm delivery charges are £7.95*
*excludes Highlands & Islands
Highlands & Islands
Delivered Wednesday to Friday, 8am to 7pm, delivery charges are £14.95
Our Highlands & Islands deliveries are made using a two day service.
To check whether you qualify for the Highlands & Island service simply click the truck icon at the top of our website and pop in your postcode.
Where we Deliver
We deliver to the whole of mainland UK, the Channel Islands, and parts of the Scottish Highlands.
Unfortunately, due to Brexit we are no longer able to deliver to Northern Ireland. 

You can check whether we deliver to your area by clicking the truck icon at the top of our website and popping in your postcode.
How our Delivery Works
Once you have placed your order you will receive an email confirmation from Pipers Farm.

On the day your order is despatched you will receive a text or an email from our delivery partner DPD confirming your order is on its way. On the day of your delivery you will then receive a notification from DPD with your live tracking link and delivery time slot. Please be aware we cannot give you a time slot for your delivery any sooner than the morning of your delivery. You can use this to track your delivery and find out exactly what time it will arrive. Please note, as part of our service, we track every customer order. 
Your order is packed in our amazing thoughtful packaging, this has been designed not only to be kind to our environment, but also to ensure your delivery reaches you in perfect condition. We guarantee your items will be completely safe for up to 2 days in transit in our clever packaging!
Carbon Neutral Delivery in Recyclable Packaging
All of our deliveries to you are carbon neutral. 
DPD's 'Driving Change' is helping to reduce emissions year-on-year by investing in hundreds of EV vehicles to decarbonise the DPD fleet, alongside innovative strategies to reduce 'miles per parcel'. To offset remaining emissions, DPD finance renewable and cleaner energy production projects.
You can view DPD's Carbon Neutral certification here. 
You can find out more about our compostable and recyclable packaging here.