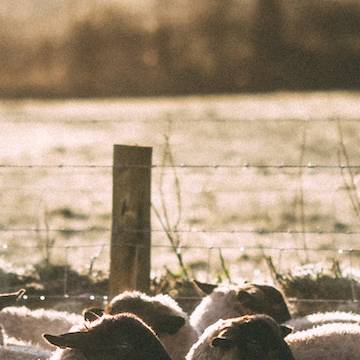 About Us
"Founded in 1989, Pipers Farm is a destination for meat that is produced sustainably and in harmony with nature. We create links between ethical producers who we know and trust, and with you, our customers.
Our ethics and values are deep-rooted to the core of our business. We passionately believe in producing wholesome natural food that has been grown with respect for nature. Our principles have not changed for 30 years and you can rest assured that we will continue to produce food that you can trust completely." Peter Greig, founder of Pipers Farm.
Our mission is based on these deep-rooted beliefs...
 How It Started
It all started in 1989 with an idea hatched in an intensive chicken shed…
"When I was a kid, all the neighbouring farms were small family farms," explains Peter. After getting married and spending a few years farming 1800 acres on a high hill farm in Wensleydale, Peter and his wife Henri returned to the farm Peter grew up on in Kent, where his family were raising half a million chickens a year for a well-known supermarket, in an industrial setup. Realising this ever-more intensive style of farming wasn't the path they wanted to take, they set about building something different.
"By 1988, all those family farms had gone," Peter points out.
"And we knew we wanted to build a business that helped to sustain the fabric of the smaller-scale farming businesses."
After looking at close to 100 farms in six months, they eventually bought a 52-acre farm in Devon and named it Pipers Farm. "When Henri and I came here 30 years ago, there was nothing here except a muck spreader in the yard, and three tin sheds," he points out, laughing. And from the humblest of beginnings, together they built a business doing all the farming, butchery and marketing themselves, while raising two young sons Ed and Will.
At Pipers Farm HQ, Peter and Henri have always reared Red Ruby Devon cattle, our native breed, however, it was never their intention to grow the farm itself – instead they set their sights on building a business that supported the small-scale family farms in the surrounding area, creating a platform to sell the finest food, produced in harmony with nature. So, they spoke to their neighbours and asked them to raise animals for them. "Everybody thought we were nuts!" Peter admits. "We started with our immediate neighbours, and got them to give it a go, and then it gradually spread."
Peter & Henri with farmer Tim Morgan in 2010
Peter and Henri grew the business winning some of the country's most prestigious awards such as; BBC Radio 4 Food & Farming Best Food Producer, The Times Best Butcher, The Countryside Alliance Best Producer UK & Ireland and a whole slew of Great Taste awards including multiple coveted Golden Forks and a Supreme Champion.
For over 20 years, Peter and Henri ran the business on their own. "We were managing everything – the farming, the butchery, the conversations with neighbours, the marketing – it was a glass ceiling," Peter admits.
In 2012 their youngest son Will, having recently graduated from Cardiff University, returned home to help his parents carry out the busy Christmas deliveries. With an intention to leave the business come January, Will soon realised that he had a passion and a vision for the next stage of Pipers Farm.
"He had to have real commitment and belief – I've got massive respect for Will, because without him there is no way Pipers Farm would be anything other than a small business. You're managing but you're not really offering an exciting horizon for the next generation of farmers. But now we have a proper management structure, the ability to manage the relationships better with the farms, the butchery, the marketing…" says Peter.
Later that year Abby joined the business and in 2017 Will and Abby took on the running of Pipers Farm building the brand and the business into what you see today, built on the solid foundations that had been carefully crafted by Peter and Henri.
Pipers Farm Today
Today we employ around 50 people from the local area who work across the Butchery, Fulfilment Centre and at Pipers Farm HQ, all based in Devon.
We work directly with 45 small scale family farms who produce grass fed beef, lamb, and mutton, properly free range chicken, pigs, ducks and Christmas poultry, and wild venison and game during the season. Alongside the meat reared directly for us, we work with small scale fisherman catching sustainable seafood out of Brixham harbour, overseen by our friend Mitch Tonks at Rockfish. And we sell an ever-growing range of ethical and sustainable dairy, artisan cheese, bread, pulses, small batch jams and chutneys…
Our mission remains the same, to produce food that our customers can trust completely while providing a future for small scale family farms working in harmony with nature.
Pipers Farm is focused entirely on preserving our countryside and supporting small-scale family farms; finding a way to allow them to thrive without having to grow or become increasingly industrialised in their operation. By focusing on each individual farm and the opportunities their land presents, we are able to support these businesses in diversifying their operations and provide a guaranteed and simple route to market. It's proof that when it comes to farming, big isn't necessarily better.
It is with huge thanks to you, our customers, that in buying from Pipers Farm you are enabling us to provide a vital route to market for small scale family farms.