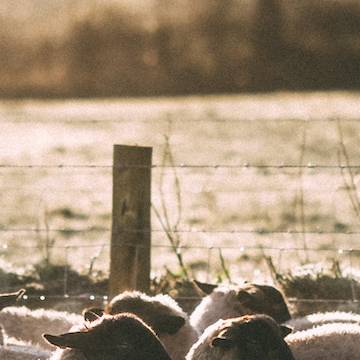 About Our Family Farm
Welcome to our family farm...
Our Family Farm, Pipers Farm HQ
Pipers Farm HQ is a 52-acre, all grass, family farm, located just north of Exeter in Devon. It lies in an area of rolling hills and nutrient-rich red soil. Our fields are small and the 400-year-old hedgerows surrounding them are two or three metres wide. They are priceless reservoirs of biodiversity and natural corridors for wildlife.
Our farm sits in a valley that has a rich heritage of small mixed family farms, some growing crops as well as permanent pasture, and many of them with a cider orchard that used to supply the Whiteways cider press at the end of the road. It is a diverse tapestry, a patchwork of small scale farming enterprise. 
As we walk up the farm we have a breathtaking view of rolling Devon hills, vibrant greens of grassland, punctuated by ploughed fields of crops traditionally grown in our valley, such as swede and potatoes.
As we look down, the pasture beneath our feet is a perfect illustration of the timeless values of the traditional farming systems. The old-fashioned grasses and herbs are deep-rooted, drawing nutrients from the Devon soil, with red and white clovers naturally drawing nitrogen from the air to fertilise the plants around them. It gives our native Devon cattle the perfect "5-a-day" nourishment with no need for health supplements or any additional feed.
At Pipers Farm we have a small herd of around 45 native Red Ruby Cattle grazing the farm. We mob graze our cattle around our small fields, where they can take shelter beneath ancient oak trees, or munch our 400 year hedgerows filled with Hawthorn, Rowan and Holly to name just a few species!
We use electric fences that are moved daily to ensure our cattle are eating, trampling and fertilising small paddocks. This provides our soil rich organic matter, which helps our diverse grass mix create deep roots that draw all that nourishment down deep into the earth, where billions of important bacteria and insects thrive. 
Our native breed cattle live symbiotically with a vast array of bird and bat-life. In the Summer months you'll find flocks of swallows and house martins who nest in our old barns, living off the insects that digest the cow pats. We have barn owl boxes located around the farm and have a pair who hunt for small mammals that stray from the hedgerows. You can hear skylarks, watch hundreds of swooping bats and gaze at the magnificent buzzard who watches over the farm from a nearby telephone post. 
In the winter our cattle are moved into a light, bright, roomy barn. This is vital to protect the health of our soil. Our farm sits on a natural spring and its heavy clay soils are very wet in the winter, in order not to damage the vital root systems of our pasture, that are in important tool for sequestering carbon, our cattle take refuge in the barn where they are fed on wild meadow hay, cut from our neighbours untouched grassland through the winter, until the Spring when the are able to once again roam our pasture. 
The Pipers Farm Family
Pipers Farm HQ is the home of Peter and Henri who founded the business over 30 years ago. For many years the business was situated on the farm, however in the last few years we have slowly moved the operations away from the farm to a bespoke Butchery based in Exeter, and a Fulfilment Centre where all our orders are packaged and shipped from, in a purpose built site in Cullompton, Devon. Today, Pipers Farm is run by Peter & Henri's youngest son Will and his partner Abby. 
We are passionate about connecting our customers with where their food has come from, so from time to time we do open up Pipers Farm HQ for events and pop up suppers. The farm is Peter and Henri's home, so it is not open to visitors year round, however do make sure you follow us on Facebook and Instagram or sign up to our newsletter to hear about upcoming events.
A Tapestry of Small Scale Farms
Like generations of families before us, we are working in harmony with the natural landscape around us. That is what the French call "terroir", and for us, it is the fundamental definition of the Pipers Farm family. We passionately believe in the "common sense" of traditional, sustainable values which have been handed down through generations of family farms. Our vision has always been one of collaboration and partnership, so instead of growing our farm, we slowly and carefully built a network of likeminded nature friendly farmers. 
Today the Pipers Farm family embraces 45 small scale, family farms, all helping us to produce wholesome, healthy food that tastes fantastic. And you, our customers, in buying from Pipers Farm, are helping us to sustain those traditional values as part of a vibrant and sustainable rural community. 
What Others Say 
"Peter and Henri Grieg are not just farmers, they are genuine custodians of the land. Their single-minded determination to produce the very best meat leads them to farm in symbiosis with the environment: one that sequests carbon and increases biodiversity. They are Slow Food heroes, and most of the meat we eat in the UK is not produced in this way, so it is our duty to buy meat from producers, such as Pipers Farm, to not only cease the environmental damage caused by highly intensive farming, but to reverse it." Shane Holland - Chairman of Slow Food
"The energy and passion of the Greig family leave you feeling very excited about the future of food and farming – anything is possible here. For 30 years Pipers Farm has been championing not only local food heritage, producing meat that is sensational to eat, but also supporting local family farms that have been the foundations of our rural communities and landscapes for generations. This has resulted in 45 small, family-run farms, rearing animals in the same way that their parents and grandparents would have before them, ensuring that there is a 100% guarantee for Pipers Farm produce.
The passion of this family is inspiring. Not only is the commitment to animal welfare, great taste and the local community paramount, there is also an encouraging glimpse into the future with Will and Abby taking the reigns. Pipers Farm is an exceptional blend of heritage, tradition and dynamic enterprise."  The Countryside Alliance