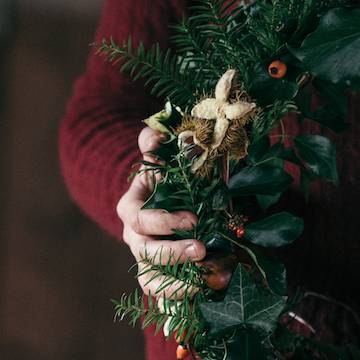 Pipers Farm Christmas Made Easy - 7 Top Tips
Christmas is truly the most wonderful time of the year, filled with family and laughter. However, getting the festive food right can be a daunting task, especially if it's your first time. Thankfully, we've got 7 top tips to make your Christmas easy. 
1) Get organised
Christmas Day lunch is the one meal where you have to be organised. If you leave it all to the day, there is just too much to do! So, in the days leading up, make sure you have everything you need, from the potatoes to the sprouts and the cooking oil to the salt and pepper. 
2) Preparation 
You want to be doing as little as possible on Christmas Day morning, which is why prepping your veg the night before is a winner. Peel the potatoes, carrots, parsnips and any other veg you are having and pop them in pans of cold water overnight. Other things like cranberry sauce can be made months in advance and stored in the freezer, just remember to take it out! 
3) Get stuffed! 
At Pipers Farm, we think stuffing is the glue around which the entire festive feast revolves. We know you can get some very easy-to-make boxed stuffing, but what if we told you that you could make some super tasty homemade stuffing you can make in the same time? Our Homemade Sausage Meat Stuffing recipe will show you how. 
4) Make the most of leftovers 
Are Boxing day leftovers better than the main event? That is up for debate, however, there are some delicious meals you can quickly rustle up that will go a long way to curing that fuzzy head and minimising food waste. Our Bubble & Squeak and Christmas Leftover pie recipes are a must try this Christmas. 
5) Plan Meals Ahead Of Time
Christmas food is not just about one meal or just one day come to that. It is worth planning some normal family meals, along with some festive food for entertaining. If you plan your meals out this way, you can start to write a shopping list and buy all those non-perishable items and those you can freeze in the weeks leading up to Christmas. If you're looking for  inspiration, check out some of our fantastic recipes here.  
6) Say cheese 
It wouldn't be Christmas without a festive cheeseboard. Plus, people can help themselves, giving you the chance to relax and enjoy the festivities. Just remember to make sure you take the cheese out of the fridge in plenty of time to allow it to get to room temperature. If you're looking for some cheese board inspiration, check out our How to Create a Festive Grazing Board
7) Wash as you go and ask for help!
At Christmas, every last pan, spoon and colander gets used, and the washing up can build up fast. Dirty pots and surfaces can add to the stress of Christmas, so keep on top of it. Enlist a chief washerupper and fill the dishwasher before serving, it will go a long way to allowing you to relax and enjoy the after-dinner activities. 
If you're looking for more help or inspiration why not have a look at our
Roast Turkey & all the Trimmings recipe